Press Resources
---
Artist Photographs
The artists, James Bulley and Daniel Jones.
Photographs by Frankie Pike (www.frankiepike.co.uk).
Forest Photographs
Images taken from the forests that Living Symphonies will be visiting in 2014.
Photographs should be accredited as specified in filenames, where photographer name given.
---
Design
Design: Patrick Fry
Illustration: Katie Scott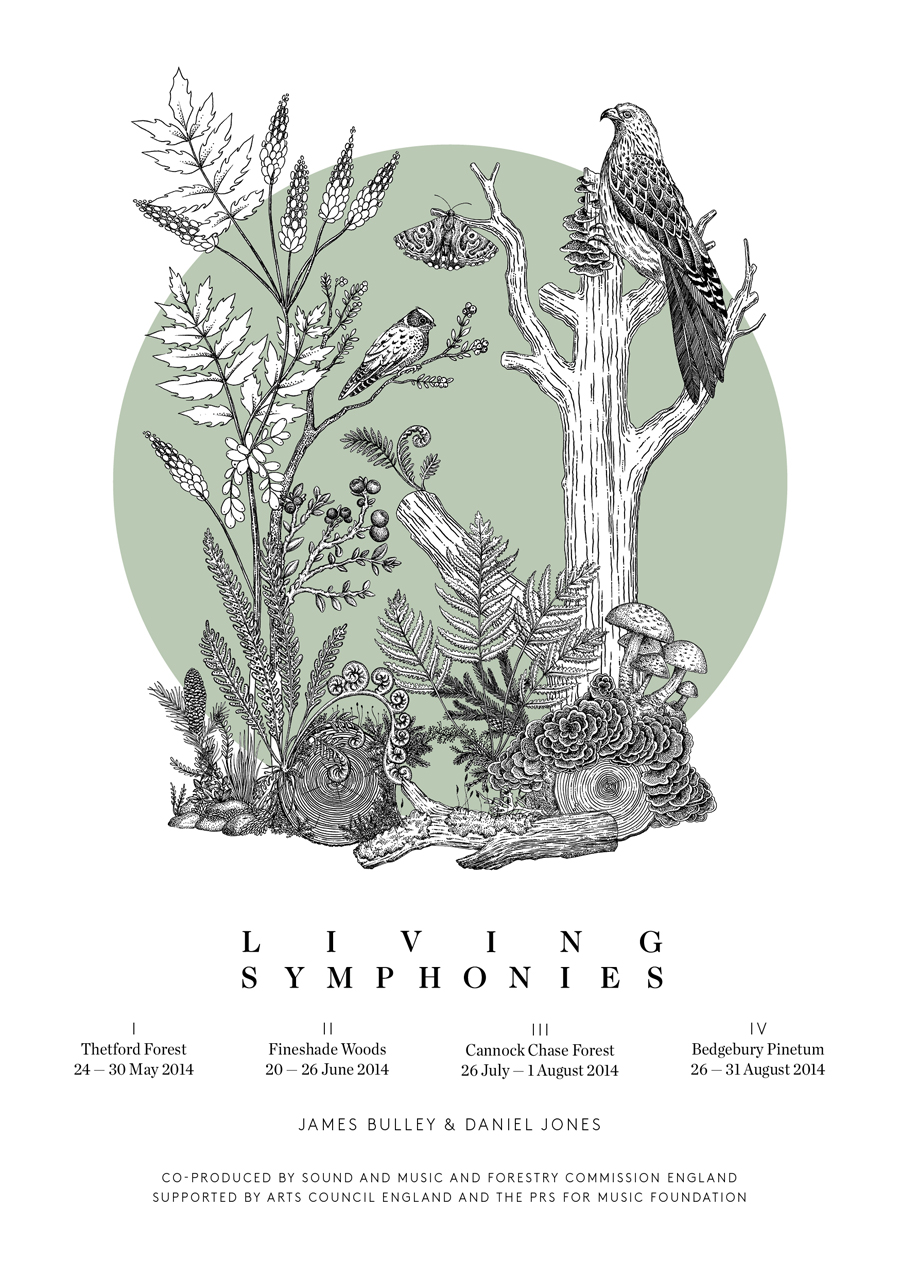 Species illustrations: Katie Scott
---
Film
Film footage: Louis Mustill and Arron Smith (Artists and Engineers)
Sound recording: Giles Stogdon, all recorded on-site at a September 2013 prototype of Living Symphonies.
Embed code:
<iframe src="//player.vimeo.com/video/84688740" width="720" height="405" frameborder="0" webkitallowfullscreen mozallowfullscreen allowfullscreen></iframe>
---
About Living Symphonies
Living Symphonies is a musical composition that grows in the same way as a forest ecosystem. It portrays the thriving activity of the forest's wildlife, plants and atmospheric conditions, creating an ever-changing symphony heard from a network of speakers hidden throughout the forest itself.
Working with ecologists and wildlife experts from Forestry Commission England, artists James Bulley and Daniel Jones have developed a detailed map of the flora and fauna inhabiting four forests across the UK. Each species is depicted by a unique set of musical motifs that portray its changing behaviours over the day and night, coming to life as the species awakens, and moving, developing and interacting just as the organism it represents. Dozens of these motifs can be heard at any moment, mapped across the real space of the forest and heard back through a three-dimensional speaker system.
Up in the canopy, the gliding cello harmonics of a butterfly are heard fluttering from tree to tree, whilst from beneath a decomposing log comes the chattering percussion of teeming beetles. Amongst the undergrowth a spider spins a web of glistening piano, waiting to ensnare the discordant violin chords of flies whirring by.
Unlike a conventional piece of music, Living Symphonies is ever-changing. It is conducted by a sophisticated software model of the ecosystem that is continually growing and evolving, responding to the real-time weather conditions within the forest. This model is used as the seed to create new musical forms, reflecting the thriving ecological world that it inhabits.
Living Symphonies seeks to provide a platform for exploring a forest ecosystem through music, portraying the complex web of interactions that make up each site. It highlights the importance of every inhabitant within the ecosystem, from moss and fungus to giant sequoia and red kite. The piece aims to explore new approaches to musical composition, creating symphonic forms that are dynamic and emergent, conducted directly by the forest ecosystem that surrounds it.
---
About the Artists
James Bulley and Daniel Jones are an artist duo whose collaborative practice explores the boundaries of sound art, music, and process-based composition. Their work draws on systems and patterns from the world around us as a way of organising sound, creating a reciprocal relationship between the two: using sound as a way to illuminate our understanding of the world, and using natural processes as a way to deepen our approaches to musical composition.
Other major works include Radio Reconstructions (2012-), which creates a live composition from real-time FM radio broadcasts, heard through an array of vintage radios; Maelstrom (2011-), which transforms user-contributed internet audio into a distributed, virtual orchestra; and Variable 4 (2010-), an outdoor sound installation which translates live weather conditions into a musical composition.
Their work has been shown at venues including the Barbican, the Museum of Science and Industry, Aldeburgh Music, the National Theatre, the Science Museum, the Queen Elizabeth Hall, the Design Museum, and the Santa Fe Complex.
Web: jones-bulley.com
---
About the Producers
Forestry Commission England (forestry.gov.uk/forestartworks, @ForestArtWorks)
Since 1968 England's Public Forest Estate has played host to artworks and initiatives across artforms. We believe that woodlands and forests are vital places for contemporary artists to engage with, to make and present new work. Forest Art Works is a new partnership between Arts Council England and Forestry Commission England to support achieving great art for everyone in England's public forests.
Sound And Music (soundandmusic.org, @SoundAndMusic)
Sound and Music is the national agency for new music. Our vision is to create a world where new music and sound prospers, transforming lives, challenging expectations and celebrating the work of its creators. We champion new music and the work of British composers and artists, and seek to ensure that they are at the heart of cultural life and enjoyed by many.
---
Enquiries
For press enquiries, please contact Nick Sherrard at Sound And Music: marketing@soundandmusic.org
or by phone on +44 (0)20 7759 1815.